50 years of fruitful friendship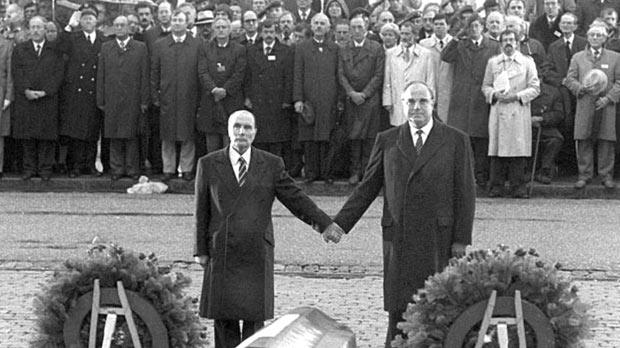 After three wars in less than one century, from 1870 to 1945, Germany and France have become the closest friends and partners in Europe. Today, we are celebrating the 50th anniversary of their friendship treaty, the Treaty of Elysée.
There is a need for many Europeans to have a clearer insight into reconciliation between Germany and France and their ensuing cooperation
- Hubert Ziegler and Michel Vandepoorter
On January 22, 1963, General Charles de Gaulle and Chancellor Konrad Adenauer committed to embark on the road of reconciliation between Germany and France to steer towards mutual understanding and closer cooperation. For the two countries it was a historic moment, charged with emotions.
General de Gaulle and Chancellor Adenauer knew that they would be shaping the future course of Franco-German relations and of European integration as well. In 1963, Adenauer said in French: "Without this treaty, there would be no union in Europe. The methods may change, but the most important thing has been laid down, and that's why we may never lose the trust of friends."
Since then, our relations have grown exponentially in all fields: politics, security, economy, youth exchanges, cultural and intellectual exchanges, to name but a few.
The 50th anniversary of the Treaty of Elysée provides a good opportunity to look back at the success of the cooperation between Germany and France which paved the way to European integration and at the same time brought peace to Europe, as the recent Nobel prize awarded to the European Union pointed out. But it is also a good opportunity to think up the next decades, with the ambition to pursue and deepen, with Malta and all our European partners, this process of European integration.
It is for this reason that Chancellor Angela Merkel and President François Hollande meet today to mark this anniversary and to celebrate the Franco-German friendship. As many events will take place during this year in Germany and France, the French and German Embassies in Malta have decided to celebrate and to share this anniversary with the Maltese people in May, organising social and cultural events, as presented to Foreign Minister Francis Zammit Dimech, around the symbolic date of May 8, which put an end to World War II.
We would like to highlight on this special occasion the strength and depth of the relations between Germany and France. A historic picture often comes to mind in this regard: French President François Mitterrand and German Chancellor Helmut Kohl, hand in hand, on September 22, 1984 in Douaumont, near Verdun, 70 years after the beginning of World War I. Beyond this symbol, there is a need for many Europeans to have a clearer insight into reconciliation between Germany and France and their ensuing cooperation.
For Maltese readers it might be surprising but in the Franco-German relationship it is an everyday business that ministries host public servants from the other country who often work at the highest levels within the other country's ministry such as the Minister's cabinets.
It is little known, but German companies employ 320,000 employees in France, and French companies, 285,000 employees in Germany. More than eight million students have participated in programmes through the creation of the French German Youth Office and more than 61,000 students went on exchange programmes between France and Germany in 2011 alone. Another number is striking: more than 80,000 students of both countries are attending bilingual classes, adding a great skill to their competences.
Adenauer and de Gaulle were visionary in the emphasis they placed on building trust between the young generations in both countries. That is why we think, as Ambassadors to Malta, that reinforcing the links between the youth of European countries and their mobility is a critical issue for shaping the future of European Union.
The Franco-German TV channel Arte presents another good example of close cooperation in culture.
Since its creation in 1990, Arte positioned itself as a reference in terms of quality and variety of programmes from both countries.
The security and defence issues are other areas of the excellent cooperation between our two countries. The bilateral defence cooperation is intense, dynamic and remains essential for Germany's and France's strategic objectives. Main activities of the cooperation are developed through the Franco-German Brigade, created in 1989, which accounts for 2,800 German and 2,300 French soldiers.
France and Germany are not only key founding members of the European Union but remain committed to strengthen it, day after day. In the past few months, we have been working together, along with Malta and the other European countries, to push forward decisive actions to overcome the Eurozone crisis so that European countries in difficulty can reduce their macroeconomic imbalances. In this context, we strongly believe that the cooperation and the friendship between our countries that we celebrate today will be an asset in the European economic recovery and political strengthening.
Hubert Ziegler is German Ambassador to Malta and Michel Vandepoorter is French Ambassador to Malta.
Comments powered by

Disqus