Classy City outsmart Blues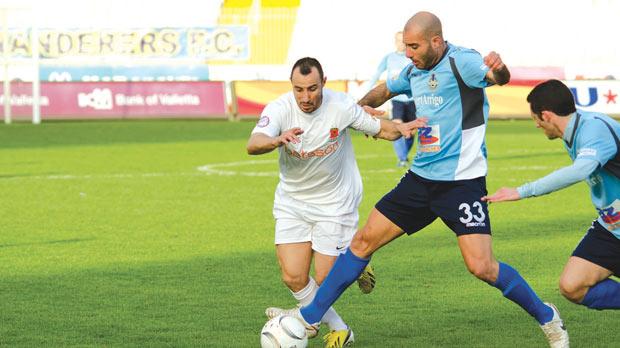 Sliema Wanderers 0
Valletta 2
Toure 9; Caruana 68;
There is no prize to be won for finishing on top of the standings at the end of the first phase of the championship. But, Valletta are again in control of the title race after a deserved victory over Sliema yesterday.
With a third win in a row, the champions' revival continued to bring the campaign back on track.
Birkirkara threw down the gauntlet earlier on by thrashing Mosta 7-1 and updates from the Tedesco Stadium were showing that Hibernians were in ascen-dancy against lowly Ħamrun.
But Valletta held their nerves and responded to the task with an efficient all-round display to give further evidence that they are slowly returning to their old selves.
Valletta were worth their victory as they were the livelier side. For all their commitment, the Wanderers struggled to make an impact, only showing signs of life up front early in the second half.
Suspensions deprived Sliema of two key players – Luca Martinelli and Paltemio Barbetti. Never-theless, coach Alfonso Greco was still able to field a valid line-up as he awarded first-team recalls to John Mintoff and Matias Muchardi while Luigi Ruggiero returned after serving suspension.
Greco opted for 4-3-3 with Ruggiero and Alain Faccini playing either side of Ivan Woods, the central striker in the Wanderers' formation.
Ian Zammit's winner against Birkirkara was not enough for him to retain his place as he was dropped with Michael Mifsud back in Mark Miller's starting line-up for the first time since November 2.
Mifsud was the central figure in Valletta's advanced midfield trio alongside Gabriel, deputising for Denni, who began a three-match ban yesterday, and Ryan Fenech. Their duties were to probe for openings and provide support for Demba Toure in a 4-2-3-1 configuration. Manuel Bartolo returned from suspension but the young Yenz Cini retained his place in goal.
Nine minutes had elapsed when Valletta opened the scoring. Receiving a pass from Fenech, Toure almost lost his balance in the Sliema box but he still succeeded in rolling his shot past Glenn Zammit and into the net.
Sliema refused to lie down. Their attacking trident was granted licence to interchange upfront with skipper Alex Muscat pushing up on the right wing.
Yet, it wasn't before the 22nd minute that they fashioned at decent chance, Ruggiero squared for the unmarked Faccini but he allowed Jonathan Caruana to catch up and dispossess him as he was about to enter the box.
Three minutes later, a burst of pace from Mifsud saw him through to reach William Barbosa's pass. However, when he was about to pull the trigger in came Mintoff to thwart the City striker from hitting home.
The game entered a lull. Athough Valletta lacked their usual flair and also looked devoid of their fighting spirit, they issued a reminder of their attacking threat, early in the second half when Mifsud's exquisite volley finished just over the bar.
Valletta were enjoying a greater share of possession but there was always the danger that they could be caught unawares by a Sliema counter-attack.
Woods demonstrated his penetrative qualities on 52 minutes when he sensed an opening in the City defence before releasing Ruggiero whose shot was repelled by Cini.
The white-shirted players went up at the other end and scored. Jonathan Caruana heading home from Mifsud's corner after 68 minutes.
Valletta were now in cruise mode. Fenech swivelled on the right flank before hitting a grounder which came off the foot of the post with Zammit beaten.
The impressive Mifsud, whose powerful running was a striking feature all afternoon, zipped open the Sliema defence with a splitting pass to the unmarked Barbosa whose shot flew just over the bar.
Six minutes from time, Barbosa went close to increasing the lead with an inswinger from a free-kick which flashed wide of the far post.
Sliema finished the match with ten players as Ruggiero earned a straight red in the dying minutes after throwing the ball in the retaliation in the direction Dyson Falzon.
Sliema Wanderers
G. Zammit-6, A. Muscat-6 (80 M. Ciantar), J. Mintoff-6, M. Scerri-5, L. Ruggiero, C. Gatt Baldacchino-6, I. Woods-6.5, A. Faccini-5, M. Muchardi-6, B. Muscat-5 (46 J. Mifsud-5), S. Bianciardi-5.
Valletta
Y. Cini-7, R. Briffa-5, D. Toure-6, L. Dimech-5, J. Caruana-7, J. Vandelannoite-6, W. Barbosa-6.5, I. Azzopardi-5 (46 D. Falzon-5), Gabriel-5, R. Fenech-7 (74 I. Zammit), M. Mifsud-7.5 (85 E. Agius).
Referee: Kevin Azzopardi.
Yellow cards: Vandelannoite; Barbosa.
Red card: Luigi Ruggiero (S) 89.
BOV Player of the match: Ryan Fenech (Valletta).
Standings
| | | | | | | | |
| --- | --- | --- | --- | --- | --- | --- | --- |
| | P | W | D | L | F | A | Pts |
| Valletta | 19 | 11 | 6 | 2 | 39 | 14 | 39 |
| Hibernians | 19 | 12 | 2 | 5 | 42 | 24 | 38 |
| Birkirkara | 19 | 10 | 6 | 3 | 42 | 18 | 36 |
| Mosta | 19 | 10 | 1 | 8 | 33 | 27 | 31 |
| Tarxien | 19 | 9 | 4 | 6 | 35 | 32 | 31 |
| Sliema | 19 | 9 | 3 | 7 | 29 | 20 | 30 |
| Balzan | 18 | 7 | 4 | 7 | 30 | 29 | 25 |
| Qormi | 19 | 7 | 3 | 9 | 27 | 30 | 24 |
| Floriana | 18 | 5 | 7 | 6 | 25 | 24 | 22 |
| Ħamrun | 19 | 4 | 4 | 11 | 24 | 47 | 16 |
| Melita | 18 | 3 | 4 | 11 | 16 | 48 | 13 |
| Rabat Ajax | 18 | 0 | 6 | 12 | 11 | 40 | 6 |
Comments powered by

Disqus