Fraudsters resort to text messaging their targets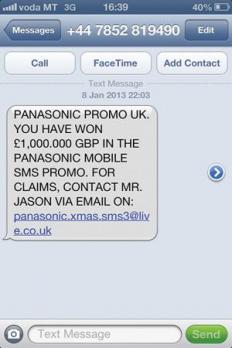 As the festive spirit fizzled out and wallets suddenly felt much lighter, several individuals received a text message claiming they had won up to $2 million in a promotional lottery.
The Sunday Times was alerted to a number of SMSs sent between Tuesday and Wednesday from foreign numbers with a prefix starting either with +234 or +44 – the country codes for Nigeria and the UK.
The messages and numbers differed, but they all informed the receiver to reply via text or e-mail to claim the prize following a promotional lottery draw. The amounts varied from £315,000 to $2 million.
While unsolicited e-mails have become part of the online experience and are nowadays taken for granted, text messaging takes spamming to another level as it is considered more personal, and the newspaper received several calls of concern during the week.
Since the messages are being sent from foreign numbers, they fall outside the jurisdiction of the local Data Protection Commissioner. However, recipients may still report the numbers at police stations, which will pass on the complaints to the economic crimes section.
Consumer Association President Benny Borg Bonello dismissed these messages as fraud and said they should be ignored. "Keep in mind that to win, you have to participate in a lottery. And if it is too good to be true, then it probably is," he said.
Mr Borg Bonello said that although some do ignore the messages, risk-takers could fall for them.
He explained that fraudsters send out the SMS in a batch over a couple of days, so they do not give the police time to trace them.
Meanwhile, they ask those that get back to them for personal data, sometimes even bank account details. Others ask the recipient to deposit an amount of money.
Mr Borg Bonello also warned against websites selling products at very low prices, which are usually put up online for a week and pulled down immediately so that they would not be traceable.
Comments powered by

Disqus