Update 2: Muscat tells car importers tax changes will be retained
It was a short drive for Joseph Muscat this morning with his first electoral campaign stop being Burmarrad Commercials, a family business in his hometown.
After touring the company that employs 50 people, Dr Muscat confirmed he had discussions with the association of car importers.
The association said a few days ago that it was concerned because a reduction in the registration tax on Euro Five vehicles could not be implemented since the Budget was not approved by Parliament. This has jammed the market.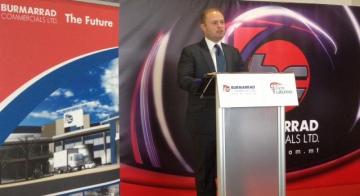 Photo: Matthew Mirabelli
Dr Muscat said the association had legal advice that the change could be made by amending regulations despite the Budget not passing through Parliament.
He said that Labour was committed to retaining any change if elected to government in March.
However, he expected the government to announce measures in the coming days to unblock the current situation.
Gas tank location was only one of other options
Addressing a news conference in Fgura later in the morning, Dr Muscat said the location of the two gas storage tanks was only one of other options where they could be located.
Asked by The Times whether any studies were undertaken to determine whether the location was appropriate, Dr Muscat said other options were available on the same footprint.
"We are confident that the identified location is feasible but it is one option of others available on the same footprint at Delimara," he insisted.
A former Enemalta chairman was quoted by The Times this morning saying the identified location, a waterfront mound of rubble, was not ideal because it served as a counterweight to the cliff face. It was a similar concern raised by Finance Minister Tonio Fenech and Resources Minister George Pullicino.
Dr Muscat said he was surprised that the Governments's only criticism was the gas ta nk location, adding it confirmed that utility bills could be reduced.
He added that criticism about the use of ships to deliver gas was unwarranted because it was no different from today, where oil is delivered by tankers.
Dr Muscat was speaking in Fgura to emphasise that his party's energy plan also meant clean air.
Photo: Matthew Mirabelli
From Fgura, Dr Muscat went to Golden Harvest, a bread-making factory in San Gwann where he said that Labour's energy plan will not only give industry lower electricity tariffs but will give them the opportunity to use the liquefied natural gas on which the power station will run, according to Joseph Muscat.
In a brief meeting with employees, the Labour leader said his party's energy plan will ensure jobs are safeguarded because companies will be more competitive.
Comments powered by

Disqus