Russia urges Assad to talk with Opposition coalition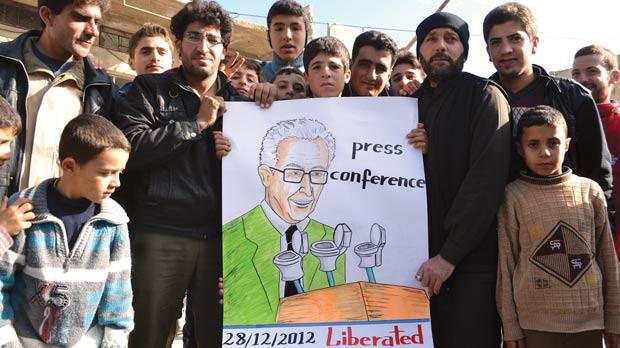 Russia, the only world power with close ties to the Syrian regime, urged President Bashar al-Assad yesterday to talk to the Opposition as Moscow itself put out feelers that received a cold reception from the rebels.
The new pressure on Assad came as Moscow revved up its bid to save a tattered peace process by first hosting a top Damascus envoy and then planning for a meeting today with Syria peace mediator Lakhdar Brahimi.
Russia also invited the head of the Opposition National Coalition for talks in either Moscow or a regional capital – the Kremlin's first contact with a group formed in November and recognised by the West as the sole legitimate representative of Syrians.
But Moscow still views Assad as the legitimate leader, and its outreach to the regime's opponents received a cool response from National Coalition chief Ahmed Moaz al-Khatib, who rejected the invitation to Moscow, accusing Russia of interference.
"We have said frankly that we will not go to Moscow," Khatib told Al-Jazeera television.
"We want apologies from (Russian Foreign Minister) Sergei Lavrov," for "interfering" in Syrian affairs and for Moscow's refusal to condemn "massacres" committed by the regime, he said.
"They have to issue a clear condemnation of the regime's brutality and a clear call for the departure of President Bashar al-Assad, which is a condition for any negotiations."
If these conditions were met, talks could be held with the Russians "but only in an Arab country and if there is a clear agenda", he said.
The fast-paced but tricky diplomacy came as rebels pounded the Wadi Deif army base, one of the Government's dwindling number of outposts in the northwest, the Syrian Observatory for Human Rights said.
Rebels on the ground said the jihadist Al-Nusra Front, blacklisted by Washington as a terror outfit, was leading the offensive.
Loss of the base would cut the main resupply route from the capital to second city Aleppo.
The Observatory said that at least 121 people were killed nationwide yesterday, 43 of them civilians. Lavrov said Russia still refused to back international calls on Assad to step down.
But the Foreign Minister made explicit that Russia wanted Assad to put all options on the table after 21 months of violence that have claimed more than 45,000 lives.
"We actively encouraged... the Syrian leadership to maximally put into action its declared readiness for dialogue with the Opposition," Lavrov told reporters when asked about his meeting on Thursday with Syrian Deputy Foreign Minister Faisal Muqdad.
The West lacks direct access to Assad and needs Russia to convince him that his regime's days are numbered and that he cannot hang on to power through force alone.
In recent weeks, Moscow appears to have distanced itself from the rulers of what was its last big ally in the Middle East. President Vladimir Putin has twice this month said that Moscow has no intention of propping up Assad.
"Russia has long realised that Assad has no future," said Carnegie Moscow Centre analyst Alexei Malashenko.
Moscow will be the focus of further diplomacy today when Russian officials hold talks with Brahimi.
The UN-Arab League envoy revealed on Thursday that he had been discussing the details of a transition government that had full powers and implemented "real change".
But Lavrov stressed that peace efforts were futile unless the West impressed on the armed Opposition the need to engage in talks that left open the possi-bility of Assad staying on on an interim basis.
"I hope that the situation inside Syria will prompt reasonable members of the Opposition to search for a way to start a political dialogue," he said.
Comments powered by

Disqus