High noon
Take a leaf out of the French recipe for life and celebrate the two-hour lunch.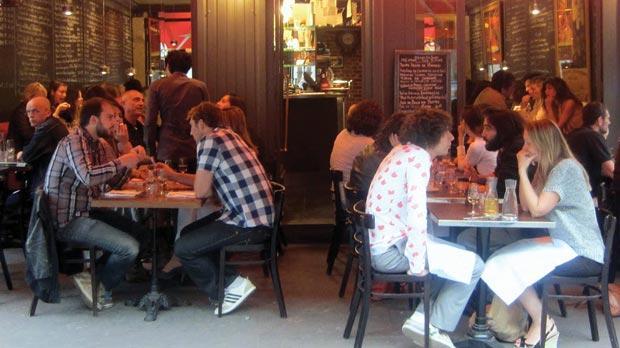 We don't do lunch, do we? At best, we stop to hurriedly munch a sandwich at our desk. At worst, we stock up on nuts, protein bars and chocolate and nibble our way through the nine-to-five grind. And when we do manage to make time to go somewhere nice for lunch, we oversalt our mains with guilt, pass on the wine and skip dessert so that we can be back at our desk within the hour.
But that's not really lunch. If you want to savour the true meaning of lunch, go to France.
The French are serious about lunch – you'll soon realise this when you try to find a shop or a government office that is still open from noon till two in the afternoon. You won't because everyone will be out sipping wine and enjoying their moules and cassoulet.
For the French, lunch should be a proper three-course meal. For the nation that wrote half the recipes in the world's cookbook, the midday meal is sacred and should be enjoyed sitting down at the local bistro, washed down with a bottle of wine and then digested slowly. Even children at school get a long lunch break. And no matter how busy they are, the French always make time for a long lunch seasoned with good conversation – it's almost a patriotic act to show the whole world that workers in France are well-fed.
In recent years however, French workers' lunch breaks have been drastically shortened. A recent survey conducted by the Malakoff Mederic social protection group shows that the average lunch break in France is now 22 minutes long, compared to one hour and a half two decades ago. Also, whereas three years ago, 34 per cent of workers lunched at home, this is now down to 29 per cent.
As with everything, blame the economy. Because whereas before, the French used to justify their long lunches with the fact that they were one of the world's most productive nations, economic woes have pushed them to adopt to a different way of lunching life.
Which means that the world needs a nation that defends the long lunch custom. And Malta is a perfect candidate – we can just get in the car and drive home for lunch or go to a restaurant and café near the office.
To justify a long lunch, we can always say that it helps our concentration levels and that we work better on a full stomach. Which we probably won't because after a long lunch, it's hard to find the motivation to return to work – the only thing you want to do is curl up on the sofa in the boardroom and go to sleep. But it's still worth a try.
Comments powered by

Disqus