Update 10 - Gharb explosion, search for fourth man suspended
Rescuers this evening suspended their search for a fourth man missing in the ruins of a fireworks factory which blew up in Gharb in the afternoon.
Th search was suspended at 8 p.m. and will resume early tomorrow.
Three other men were found dead earlier in the evening. They still have to be identified.
Sniffer dogs were flown to Gozo to help in the search, which continued into the evening under floodlights.
The dead or missing are factory owner Gorg Gatt, Mario Gauci, Peppi Cini and Brian Portelli, the youngest of them at 23. His distraught parents were on the scene and later needed to be taken to hospital for treatment for shock.
The factory Qalb ta' Gesu, was flattened by three explosions, the first two in rapid succession at about 2.45 p.m. and the third some 30 minutes later as rescuers were starting their search. Some were hurt by stones hurled by the blast. None of their injuries are serious.
The first blasts were heard as far away as Zejtun in Malta. The third explosion, although less powerful, was also heard in Selmun.
The second blast, by far the most powerful, produced a huge mushroom cloud.
Photographer Rene Rossignaud was at Ta' Pinu Church, on the outskirts of Gharb, when the first explosions were heard.
"The explosions were huge," he told timesofmalta.com.
"Two people started crying outside the church, others went inside to pray"
He said he got on his bike and drove to the scene of devastation.
On the scene, he saw boulders which were thrown 150 metres from the blast site and four cars were destroyed by fire – raising fears that there were at least four people inside the factory.
A fireworks store located not more than 40 metres from the blast, survived intact although the door was blown in. (See picture below)
Two fire engines and two ambulances arrived after a short while, but initially could not approach the area as more petards exploded.
Rescuers from the Civil Protection Department as well as a number of soldiers also arrived and started the dangerous search for survivors.
They were later assisted by sniffer dogs but the gathering darkness made the operation even more complex.
Volunteers from the Emergency Rescue Corps (ERRC) assisted the authorities.
The scene of this afternoon's blasts is not far from the site of an explosion in another fireworks factory in September 2010 which killed six people.
VIDEO - Rene Rossignaud, Paul Spiteri Lucas.

The explosion crater and two of the four cars destroyed by the blast - Photo Rene Rossignaud

[email protected]
Photo Rene Rossignaud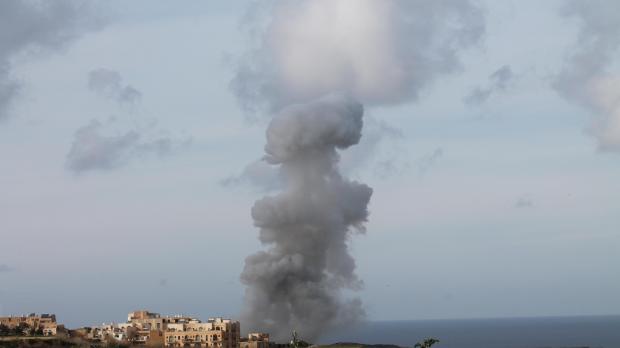 Picture Andrea Muscat -

[email protected]
Picture - Anthony Grech -

[email protected]
Picture Stephen Buttigieg -

[email protected]
Picture Ana de Barro -

[email protected]
Daniel Hughes -

[email protected]
Picture - [email protected]
Comments powered by

Disqus