Remembering Diana Vreeland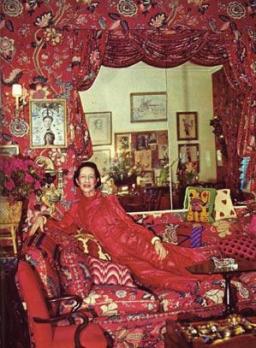 Diana Vreeland in her red sitting room.
It's a typical London spring night in 1978 and a small group of people gather to look into a well-lit doorway to observe a 75-year-old rouged and elaborately decorated woman putting a back plaster on the bare waiting rear of a man half her age.
It is not the dress that matters. It's the life you live while wearing it
Like you and me, they probably thought they had stumbled on some avant-garde play or, at the very least, a bizarre sexual ritual. However, it was just another night in the fabulous life of one Diana Vreeland and the man she was bent over was just Jack Nicholson who had a bad back!
Seeing a photo of the former Vogue editor-in-chief, one would be forgiven for thinking she was ugly; after all, even her own mother thought so. Vreeland's mother was a beautiful socialite who never came to terms with the fact that she had produced such an ugly duckling and reportedly told her eldest daughter: "It's too bad that you have such a beautiful sister and that you are so extremely ugly and jealous of her. This, of course, is why you are so impossible to deal with." Vreeland's reaction was: "Parents, you know, can be terrible."
Born into a wealthy family and married to the extremely attractive Reed Vreeland by the age of 21, Vreeland could have chosen to be a lady of leisure had her mind not been so sharp and her spending so prolific.
In 1936, Carmel Snow, the now legendary editor of Harper's Bazaar, spotted the 33-year-old mother of two dancing in a white Chanel dress paired with a bolero and roses in her hair. Snow was instantly sucked into the drama that Vreeland was capable of evoking due to her unique understanding of the importance of imagery.
Snow hired her for her magazine without a second thought and suffice to say, her gamble paid off in spades.
From the very beginning of her 50- year career, first as a fashion editor and columnist at Harper's Bazaar, where her Why Don't You… column sparked both outrage and derision on more than one occasion, and subsequently as editor-in-chief at Vogue, where she was responsible for discovering Edie Sedgwick and partying with Andy Warhol, and finally at the Metropolitan Museum of Art, considered by many to have been the crown jewel of her career, Vreeland revolutionised and redefined the parameters of fashion as well as the woman's place in society at large.
She felt it was her mission to go beyond what was safe and constantly strove to give the public "what they never knew they wanted".
The Eye Has to Travel, a documentary by her grandson's wife Lisa Immordino Vreeland, recently released in select cinemas in the US and Europe, succeeds in celebrating not only Vreeland the woman, but also Vreeland the social hurricane.
She was responsible for including pockets in women's clothing which freed up the hands, popularising blue jeans by saying they were the most beautiful things since the gondola, never shrugging away from modernity or controversy and always pushing onwards and upwards.
The documentary is a visual feast that does not only give insight into Vreeland's illustrious career by including interviews with industry heavyweight titans such as Diane von Furstenberg, Calvin Klein, Manolo Blahnik and David Bailey, but also glows with the red fire of the iconic woman. It ultimately succeeds in proving Vreeland's unique mantra: "It's not the dress that matters. It's the life you live while wearing it."
Comments powered by

Disqus