Putin is defiant despite march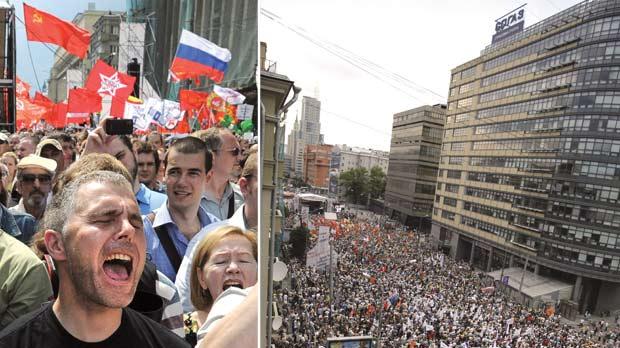 Russian President Vladimir Putin vowed yesterday never to bow in the face of social upheaval as tens of thousands of determined protesters chanting "Russia Will be Free" marched against his third term.
Dear friends, they are afraid of us and we aren't afraid of them
A sea of white opposition ribbons and posters mocking the strongman filled central Moscow's leafy boulevards for a peaceful procession, although some top protest leaders were prevented from attending because of police questioning.
The so-called March of Millions – the first since May, when Putin extended his 12-year domination of Russia through to at least 2018 – ended with a rain-soaked rally. No arrests were reported.
But anti-corruption blogger Alexei Navalny and A-List television host Ksenia Sobchak were being interrogated after having their homes raided in a choreographed security sweep that seemed designed to keep them off stage. "Dear friends, they are afraid of us and we aren't afraid of them," protest leader Boris Nemtsov told the masses on an avenue named after the Soviet-era Nobel Peace Prize winner Andrei Sakharov.
A police officer later walked backstage to hand Nemtsov a warrant to appear for questioning later in the day.
One organiser put attendance at more than 100,000, while the city's police department put the number at just 18,000. Aerial television footage of the main rally suggested a figure at least double the police estimate.
Putin used a speech honouring Russia's post-Soviet independence day to allude gravely to the turmoil now shaking some countries that he vowed to defend firmly against.
"We cannot tolerate decisions and actions capable of leading to social and economic shocks," Putin told a formal Kremlin ceremony in televised remarks.
"We cannot accept anything that weakens our country or divides society."He said any future political changes would be "based on our accumulated experience of stability" – a mantra of his election campaign.
Analysts view the nascent protest movement as the biggest challenge to confront Putin since he left behind his career as a Soviet spy to make his name as the most dominant political force in contemporary history.
Comments powered by

Disqus