Shopping for PV panels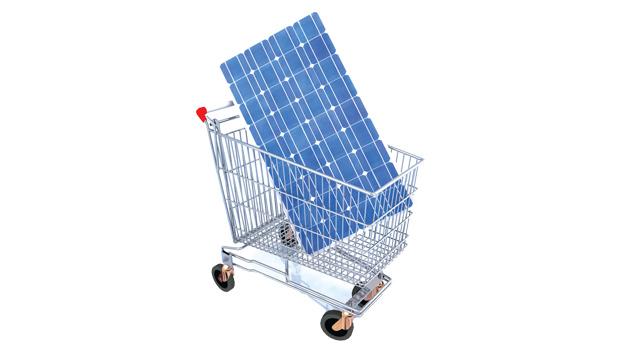 With an increasing awareness for going green, photovoltaic panels are the trend. Government grants and feed-in-tariff schemes support investment in such systems. However, amid this enthusiasm, people might not have the right knowledge when opting for a PV system.
With so many products available on the market, shopping for PV panels could be a daunting task, especially if you are not sure what you need to look for. All panels look the same to the untrained eye, but in actual fact they are all different. How can you recognise a good-quality PV system?
First and foremost, make sure you choose a reputable installer and don't base your decision entirely on price, as this could be misleading.
PV panels will differ in quality,efficiency and price. Qualityrefers to the panel material.Originally, polycrystalline cells tended to be cheaper andless efficient compared withmono-crystalline cells.
Nowadays, through advanced technology, there is no difference in efficiency with good brands. Amorphous silicon cells or thin film cells have also gained their share in the market.
Both cells have a greater heattolerance and are not usually affected by shading as much ascrystalline cells. For this reason they are being increasingly used for canopies and building integration.
Check that the panel you are buying can resist Malta's high temperatures. Crystalline panels lose their efficiency on hot days, especially when temperatures exceed 25˚C. Many panels available on the market are not made to cater for such high temperatures, as they are meant to be installed in cooler countries.
Inverters are a vital component within a solar PV system. These convert the DC electricity produced by the solar panels to AC to feed back to the home or grid. Always look for an inverter which requires a low DC input to ensure that it will operate for as long as possible during the day. Additionally, the inverter must be well-matched to your system, as it could affect the power output of the panels.
Ask for international PV panel certifications, such as EN61215 and EN61730. The EN61701 certification for resistance to salt mist corrosion is vital for Malta. Understand the warranty. It is important to understand the difference between the guarantee on the product and parts, and that against the performance of a system.
Standard warranties on PV panels offer five years on the product and 25 years on performance. The latter tends to be misleading or give a false sense of confidence in the product.
Once a product warranty has expired, it is important to note that a claim against loss of performance within the stipulated 25-year bracket may be unclaimed if the issue is related to a defect in the product's material or parts.
Opt for a system that carries good warranties on both product and performance. Good quality panels will carry 10- to 12-year product warranty.
The design and installation of a PV system are just as important as the quality of the product. If done badly, output will be affected. Make sure the installer designs and quotes a system that is the right size for your home. Size will mainly depend on the roof space available and how much electricity you use. Ensure that a qualified engineer designs and certifies your system.
Your system must have a DC isolator and an AC isolator, which are critical for your safety. It is essential that the PV system is earthed directly to the ground as opposed to the nearest circuit in the house.
Malta is prone to strong winds, so ensure you have a solid PV mounting structure.
Installing a PV system is an investment. It must give you back the best returns as quickly as possible. A PV system is your own money-making machine. Therefore, it is in your interest to ensure that you purchase not only the best panels but the equipment and installation are to the best of standards.
Ms Schembri is director at Electro Fix. For more information, visit www.electrofixenergy.com.
Comments powered by

Disqus