Chetcuti strikes silver in US
Up-and-coming Xuereb fourth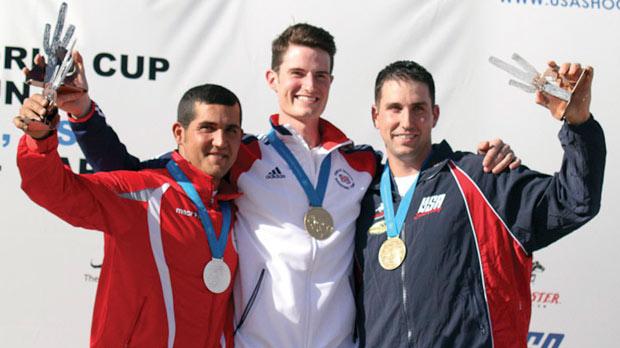 William Chetcuti stepped up his build-up for this summer's London Olympics by winning the silver medal in double trap at a World Cup shoot in the United States.
Chetcuti's latest achievement crowned a mem­orable day for Maltese shooting as Nathan Lee Xuereb, at 15 the youngest competitor in yesterday's double trap event, finished fourth.
"This was a very good result as I achieved my best score in an overseas competition," Chetcuti told The Times from Arizona.
"It's important that, in the run-up to the Olympics, I continue to qualify for the barrage and challenge the top shooters in every competition."
After hitting 49 points in the opening round, Chetcuti obtained a perfect 50 straight and wrapped up with 48 hits for a qualification score of 147, only one target behind eventual winner Peter Wilson, of Great Britain.
In the barrage, the 27-year-old Chetcuti, who won a World Cup shoot in Beijing last year to seal an Olympic berth, managed 47 hits for an overall score of 194, four behind Wilson whose total of 198 hits was a new final record. Wilson, 25, shattered the previous mark of 196 set by China's Olympian Hu Binyuan in 2009.
Describing Chetcuti as a great shooter, Wilson said he knew it was going to be tough but "tried to take it easy, to be relaxed in the final".
Joshua Richmond, of the US, took third on 193 points, only two ahead of Xuereb.
Competing against some of the world's leading shooters, Xuereb hit 46 and 48 in the opening two rounds before delivering a perfect 50 to make sure of a top-six placing on 144 hits. In the final, Xuereb recorded 47 hits for a score of 191 as he finished fourth.
The excellent results obtained by Chetcuti and Xuereb brought great satisfaction to coach Jimmy Bugeja who accompanied the two Maltese shooters.
The Malta Shooting Sport Federation (MSSF) expressed its delight at the feats of Chetcuti and Xuereb.
"The MSSF is very pleased with the historic result obtained in such a prestigious event and would like to thank all those who contributed to this achievement, namely coach Jimmy Bugeja, the MOC, the Kunsill Malti għall-iSport (KMS), their physical trainer Jesmond Zammit and their families," the MSSF statement said.
The KMS also congratulated the double trap duo for the "fantastic result achieved" in the US.
Final results: 1. P.R. Wilson (GB) 198 (148+50); 2. W. Chetcuti (Malta) 194 (147+47); 3. J. Richmond (US) 193 (143+50); 4. N.L. Xuereb (Malta) 191 (144+47); 5. A. Loew (Germany) 191 (145+46); 6. F. Al Deehani (Kuwait) 190 (145+45).
Comments powered by

Disqus