Barcelona ends bullfights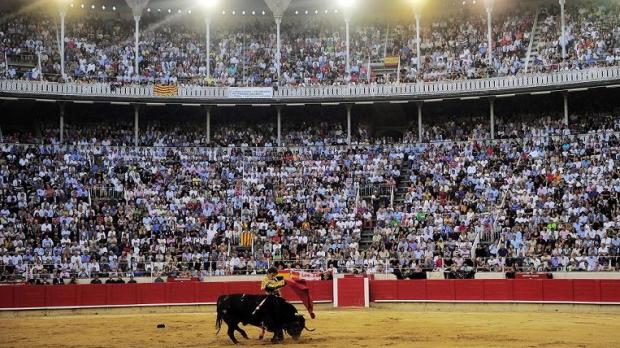 Matadors drove the killing sword into bulls for the last time late yesterday in Spain's north-eastern region of Catalonia in an emotive farewell fight before a regional ban on the country's tradition takes effect.
Three of Spain's top bullfighters, including No. 1 Jose Tomas, starred in the sold-out show at Barcelona's 20,000-seat Monumental ring. Catalan bullfighter Serafin Marin closed the fight killing the last of six bulls to great applause.
Many fans then invaded the ring to grab handfuls of sand to keep as souvenirs.
The bullfighters were later carried shoulder high from the ring into the streets outside the bullring while the crowd chanted slogans in favour of freedom and against the prohibition. A brief bout of scuffling broke out as fans confronted about 20 animal welfare activists, but there were no reports of injuries or arrests.
The fight was also preceded by moments of tension as pro- and anti-bullfighting activists exchanged insults.
Catalonia's Parliament banned bullfighting in July 2010 following a signature-collection campaign by animal rights activists. The ban does not take effect until January 1, but today's fight was the last scheduled this season.
Critics say the prohibition is less about animal welfare and more a snub to Spain by independence-minded Catalans.
Bullfighting's popularity in Catalonia has plunged in recent decades and the Monumental was its last functioning ring, although the city once boasted three.
Hours before the fight, a small group of anti-bullfight activists gathered outside the arena to celebrate.
"Obviously a lot of political parties have tried to politicise this, but we mustn't forget that this popular proposal sprouted from a pure pro-animal rights standpoint aimed at eradicating animal cruelty," campaigner Soraya Gaston said.
Others hoped the prohibition might only be temporary.
"It looks like this may be the last day (of bullfights in Catalonia). But the last word hasn't been said yet," fan Eduardo Edurna said. "I think we will have bullfighting back in Catalonia."
The prohibition caused a furore and triggered a nationwide debate over the centuries-old spectacle that inspired such artists and writers as Goya, Picasso and Hemingway.
"Banning bullfighting in Catalonia is nothing more than an attack on liberty," said Carlos Nunez, president of Spain's Mesa del Toro pro-bullfighting umbrella group. "It's the fruit of policies in Catalonia against bullfighting and all that is seen to represent Spain."
Although mostly symbolic - the Monumental staged only 15 fights a year - the prohibition sent bullfighting supporters frantically looking for ways to overturn the decision or at least make sure it doesn't spread to other regions.
Spain's leading conservative opposition Popular Party - tipped to win general elections in November - has appealed the ban before the Constitutional Court, while its Catalan branch is battling for a delay in the implementation of the ban.
Meanwhile, the Mesa del Toro is seeking 500,000 signatures in the hope it can persuade the Madrid national parliament to grant bullfighting cultural heritage status.
Animal rights activists, meanwhile, are triumphant.
"It's like a crack has developed in the armour plating (of bullfighting). It's a small crack but the protective shield might crumble altogether," said Leonardo Anselmi, a key promoter of the Catalan prohibition.
Catalonia is the second of Spain's 17 regions to ban bullfighting. The Canary Islands outlawed the practice in 1991 although it had never been a popular tradition there.
For the moment, however, there are no signs any other Spanish region will follow suit.
Comments powered by

Disqus