Gozo diving centre places third in global marine conservation campaign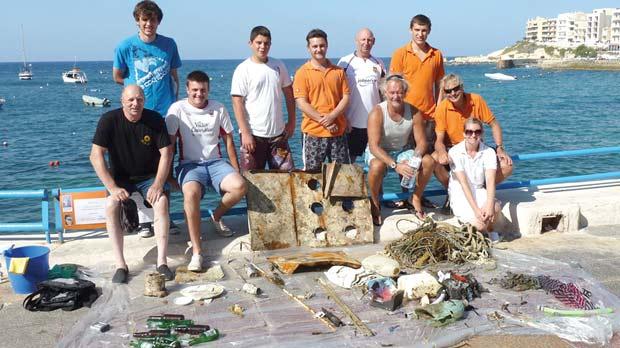 Project Aware, the international non-profit organisation mobilising divers to protect the ocean, has awarded Bubbles DiveCentre of Marsalforn third place in its Global Dive Against Debris campaign.
The award was given in recognition of the efforts made by the centre during its recent two 'Dive Against Debris' events inMarsalforn Bay.
Trained divers not only removed underwater debris, such as plastic bottles and fishing lines, but also identified and documented everything they saw underwater in a larger effort to prevent marine debris.
Donna Hayler-Montague, owner of the centre, said: "We opened this centre to focus specifically on raising awareness of marine conservation and encouraging low-impact diving. Considering we have only been open for a couple of weeks, we are delighted by the placing."
The award publicity will be seen around the world by millions of divers and is expected to raise the profile of Gozo as a dive destination and one which encourages respect for theenvironment.
Diving centre director David Hayler-Montague said: "We raised 85 kilos of rubbish from the seabed during the campaign, but there is still a lot of work to be done.
"We hope the award will encourage others to get involved in marine conservation. It is important to make sure future diving in Gozo remains one of the best in the world."
For more information, visit the centre's Facebook page at www.facebook.com/BubblesDiveCentre or www.diving-gozo.com or contact Donna Hayler-Montague by calling 2702 8299 or e-mailing [email protected].
For more information onProject Aware's Dive Against Debris programme and to join the global movement for ocean protection visit www.projectaware.org.
Comments powered by

Disqus