Violent storm causes widespread damage and traffic distruptions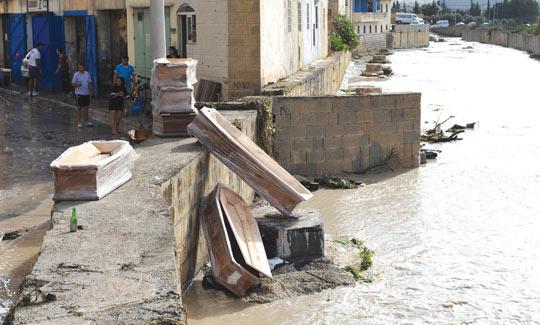 A violent storm turned roads into rivers early yesterday morning, leaving schoolchildren stranded, cars drifting out of control and, perhaps most surprisingly, tens of coffins floating down a road in Qormi.
Undertaker Carmelo Mifsud said he lost about 800 coffins worth almost €350,000 when the garage doors of his warehouse in Qormi burst open with the pressure of accumulated rainwater.
Many of the empty coffins were carried away along the road, some reaching as far as Marsa Sports Club.
"A van overturned and blocked the only opening of this road, so the water couldn't flow on. I've been telling the local council to have more openings in the wall but nothing was done," Mr Mifsud said as his employees and family members cleaned the store rooms of mud and water.
His six hearses and several other vehicles were also damaged by the flooding and he is as yet unsure about the true extent of his losses. He is not optimistic about recovering the costs through insurance.
The rain pelted the island throughout the night and an "extraordinary" 87.3 millimetres of water flooded roads causing havoc but no injuries were reported.
Civil Protection Department and Armed Forces of Malta personnel were busy rescuing drivers from stalled vehicles, wading through thigh-high waters.
Meanwhile, soldiers and workers from the Public Cleansing Department cleared roads of debris after several wall collapses, particularly in Rabat.
The CPD was advising people to stay at home and many followed the instructions, arriving late to work or choosing to remain indoors altogether.
Those who did venture out were stuck in a gridlock of rush hour traffic, especially in areas where traffic lights stopped working or where roads were inaccessible.
The worst hit areas were Msida, Birkirkara Valley Road, Burmarrad, Balzan, Lija, Marsa and Qormi, where the water even halted a bus, which itself was flooded.
The overnight storm delayed at least nine flights by an average of an hour each, as crew and passengers could not reach the airport on time.
Many homes were flooded as were some schools, forcing them to send back home those children who had turned up. But many other children did not even make it as many school transport drivers opted to cut their journeys short.
Sewage flowed from several areas as manholes burst open, making the clean-up more difficult.
Justice Minister Carmelo Mifsud Bonnici thanked the forces that provided assistance throughout the morning and the media for helping the flow of information.
A spokesman for an insurance company said a huge number of inquiries were made, mainly related to flooding and damage sustained to homes or garages. He said the damage to cars was covered as long as the vehicles were comprehensively insured and the same applied for home insurance.
The flooding sparked calls for better flood management and others said no man-made mechanisms could have prevented the chaos given the heavy downpour.
Despite warnings of a second storm, the rest of the day was characterised by mostly clear blue skies and warm temperatures.
Comments powered by

Disqus