Maltese, Libyan boats share rescued migrants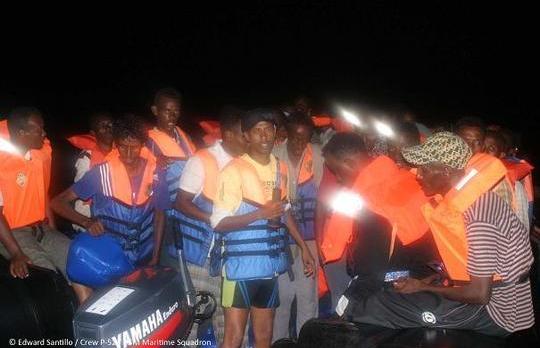 Maltese and Libyan patrol boats shared out 55 migrants found on a dinghy some 44 miles south of Malta yesterday.
28 migrants, including a baby, were brought to Malta at 4 a.m. this morning by AFM patrol boat P-52 while another 27 were taken from the sinking dinghy to a Libyan vessel which intercepted the migrants at the same time as the Maltese patrol craft.
The migrants brought to Malta were 22 men, five women and the baby. They were the first migrant arrivals this year.
The baby along with the mother were taken to Mater Dei Hospital.
The AFM said the boat was heading North and taking in water when its Rescue and Coordination Centre (RCC) received a distress call yesterday morning.
RCC Malta managed to get in touch with the illegal immigrants onboard their boat, in an effort to assess their situation. By yesterday afternoon, an AFM Islander aircraft located the illegal migrants who were on a large rubber dinghy.
Concurrent to these rescue efforts, Libyan authorities also dispatched a launch to assist the illegal immigrants. Subsequently, both P-52 and a Libyan rescue-launch reached the rubber-dinghy. 28 migrants were then transferred to the Maltese patrol and 27 to the Libyan launch.
A total of 1,475 migrants arrived in Malta last year, but arrivals dropped off after Italy reached a repatriation agreement with Libya to immediately send back migrants. Migrants who land in Malta would normally be on their way to Italy and arrive here by mistake. There had been a number of migrant arrivals in Sicily in the past few weeks.
Comments powered by

Disqus