When the poet sings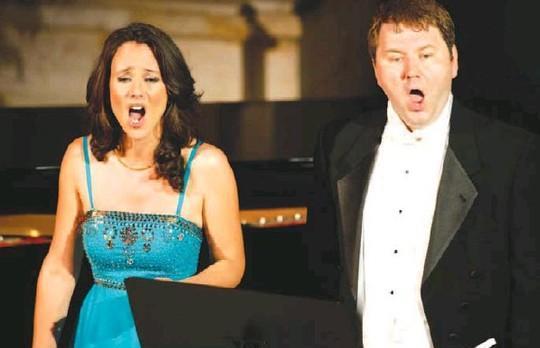 As I approached Auberge de Castille on July 8, we found a long queue of people snaking around what is by far the most sumptuous building in Malta, waiting to be admitted to a concert in the courtyard entitled 'The Poet Speaks'.
This featured songs by Robert Schumann and Frederic Chopin, whose bicentennial falls this year and whose music, for rather diverse reasons, has fired the creative imaginations and romantic passions of all who listen to it and love it to this very day.
This song recital organised as part of the Malta Arts Festival was free and I must say the atmosphere of Andre Belli's lovely courtyard certainly enhanced the atmosphere conjured up by this very pleasurable performance by soprano Gillian Zammit, tenor Clifford Bechtel, and pianist Rosetta Debattista.
Prime Minister Lawrence Gonzi and his wife Kate rounded off the evening by hosting a reception after the performance.
Zammit is today a household name. She is a regular performer whose voice has a particularly fine timbre.
Not a sultry voice for the great Verdian roles nor a mellifluous one appropriate for the Puccinian heroines but, in my eyes, one particularly adept in the interpretation of more modern music like Stravinsky, Barber or Britten, for instance, or, more significantly, songs by the German romantic greats: Schumann, Schubert, Brahms and Wolf.
There is a purity of line combined with a crystalline precision that enhances Zammit's intrinsic melodiousness. When singing lieder, Zammit's highly schooled but expressive voice comes into its own like in no other genre.
What was a revelation were the Chopin songs HandsomeLad, A Maiden'sWish and MyDarling,all op. 74 numbers 8,1, and 12 respectively.
I will, of course, make no attempt to write the Polish titles of these songs that were in fact sung in Polish, which is a rather baffling tongue at best wherein nothing is pronounced as it is written.
All three songs had a wonderful rhythm to them that really was Chopiniana at its finest, with echoes of stately mazurkas and elegant waltzes.
I felt these three songs were among the finest performed, possibly also because of their delicately wrought piano accompaniment played with great expression by pianist Rosetta Debattista.
She is also a very familiar presence among regular concert-goers as she is involved in a variety of musical projects, especially as an accompanist. However, the piano's role in lieder is never to be underestimated.
Inadvertently, while the ear concentrates on the vocal line, the inner ear is being influenced by the piano scoring that enhances each nuance of meaning in tones designed to move the listener with a unique combination of lyrics and music. This is where Debattista excels.
These were songs to be sung at home in gas-lit drawing rooms to while away long winter evenings in an age without hi-fi or MP3s let alone iPhones.
If one loved music, then there was no other way of appreciating it than to play it oneself. Hence the piano versions of the Beethoven symphonies, the colossal volume of chamber music and the thousands of songs all designed for the domestic market.
I remember my grandmother talking about the large families of yesteryear and how the musicloving parents used to put together a veritable chamber orchestra as each successive child was given a new instrument to master. But as usual, Kenneth digresses.
Tenor Clifford Bechtel has a pleasant and expressive voice that he uses very well in this genre. Whether singing in Polish or German it was agile, precise and crisp and above all a pleasure to listen to.
I simply loved his Two Grenadiers op. 49 no 1 by Schumann, a song that, by the way, I found culturally highly curious with its inclusion of the Marseillaise; but then that brings me to the crux of the evening which is how and why the poet speaks and what Chopin and Schumann did to enhance the inner meanings and deep feeling of this poetry.
German poetry is very particular. I am convinced it suffers in translation or rather that German and Anglo-Saxon temperament are as different as chalk and cheese.
I find it almost inconceivable that great composers like Schumann could have set trite lines like 'my wagon rolls slowly through joyful greenwood. Through valleys of flowers which magically bloom in the gaze of summer' to utterly magical pianistic cascades and ethereal melodic lines in a song called MeinWagenRolletLangsam by Heinrich Heine.
I was sitting in the row behind the German Ambassador and his utterly rapt expression and deep attention convinced me there is far more to the stark and clumsy translation than meets the eye.
The same could be said of the Polish poetry. I was highly impressed by the long patriotic diatribe of Hymn FromTheTomb by Wincenty Pol, which although expressed the desperation of a Poland that had then been reduced to a historical memory by Russia, Prussia and Austria, still employed the almost identical musical timbres as those so familiar in Russian music.
A lugubrious dirge, straight out of deep Russian orthodoxy, that expresses the nationalistic yearnings that Poland, with its rather quixotic and very tragic history, would be unfulfilled till much, much later.
It was, however, t he l ove poetry that dominated the recital . This was t he age of Goëthe's Werther and Pushkin's Onegin. This is when it was fashionable to die, literally, for love; love that was unrequited , thwarted or doomed.
This is when young people were so emotionally fragile that Schumann's music was deemed to be too strong emotionally for young unmarried ladies and when Franz Liszt , like a sort of latter-day Michael Jackson, made t he grand ladies who flocked to his recitals faint in a combination of tight corsets, sex appeal and valerian.
It is rather difficult , if not totally alien , in our far more practical and humdrum world to imagine what it must have been like to live in times like these , when the mere sight of an ankle briefly exposed from under a froth of lace petticoats could send a man reeling with desire.
Therefore , to appreciate the full effect of lieder one must try to imagine what it must have been like for an impressionable young girl to listen to a handsome tenor sing ' Dumieneseele, dumeineherz,Dumienewonne, du meine schmerz.' (You my soul, you my heart, you my bliss, o you my pain). The mind boggles.
Comments powered by

Disqus