Aviation firm to expand into €10.5m facility near Safi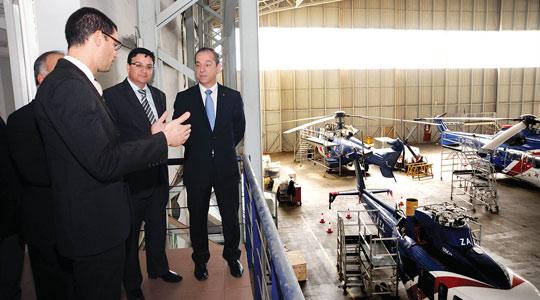 Medavia, the aviation company, will be investing €10.5 million to build a new hangar and office block as part of its plan to expand its operations here.
The new 5,000 square metre hangar will be flanked by a 2,000 square metre office block, which will form part of the new aviation park on the outskirts of Safi.
Medavia, which forms part of the Libyan Arab Foreign Investment Company (Lafico), is mainly involved in the transportation of personnel and cargo from Tripoli International Airport to desert oilfields. It also provides specialised aircraft maintenance and administration.
The infrastructural works for the aviation park, spanning over two hectares, will cost the government €7 million and will include the construction of aprons and taxi ways. They will be linked to the airport's main runway by March next year.
The government will also be helping Medavia out in its €10.5 million investment through assistance from Malta Enterprise. However, the amount and type of assistance to be granted was not divulged.
Last year, €80.4 million worth of aid was administered by Malta Enterprise but the amount of money that went to individual companies was never disclosed.
Prime Minister Lawrence Gonzi said Medavia's investment was "another strong sign of trust in the future of this country" and the aviation industry that had grown over the years.
"The aviation park is a vision through which we plan to establish Malta as a major aviation centre in the world," he said.
Medavia managing director Abdurazagh Zmirli said: "Forming part of an aviation park has been our vision for many years. Now we feel that it is being realised thanks to the commitment of Malta Enterprise and the Malta Industrial Parks."
He explained that the new office block and hangar would be built on the site of an old similar facility that was being dismantled. Materials from the old hangar will be recycled and used in the new environmentally-friendly premises that are planned to be completed by July.
Once Medavia moves to the new facilities, their present offices and hangar will be used by SR Technics, which is to start aircraft maintenance operations in August. SR Technics will operate there for about three years until its new hangar is completed near Lufthansa Technik at the airport's Park Four.
"By the time SR Technics moves out, we hope to have expanded our operations to the point that we will be using both hangars," Mr Zmirli said.
David Xuereb, architect responsible for the project on behalf of Malta Industrial Parks, explained that whereas the current hangar measured 50 by 70 metres, the new one will be 50 by 100 metres.
Roderick Cutajar, from Medavia, explained that the larger hangar was aimed at expanding their operations by taking on more subcontracting for maintenance works. "We will probably also increase our workforce," he said, adding that the Maltese-registered company employed 250 people in Malta and Libya.
Comments powered by

Disqus