Organisers give details of Pope's meeting with youths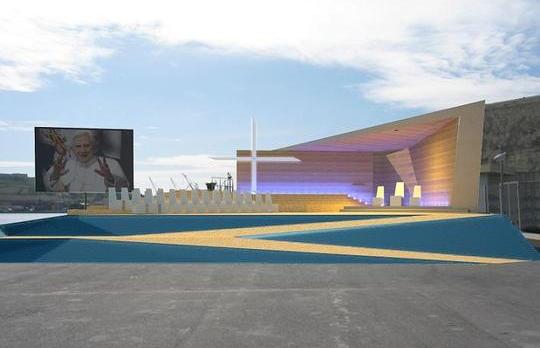 The organisers of the Papal visit today unveiled the designs of the stage to be used for the Pope's meeting with young people at Valletta Waterfront in the afternoon of Sunday, April 18.
Architect Daniel Darmanin, speaking for the team which designed the stage, said that the focus of the structure would be the Cross and then the Pope, who leads Man to God.
The organisers explained that activities will kick off at 2 p.m. with performances featuring various Christian bands and solo artistes.
The Pope will arrive at Valletta Waterfront at 5.15 p.m. on a catamaran from Kalkara. Addresses will then be made by youths, representing those who are active in the church, young families, those who do not feel they are part of the church, and those preparing for the priesthood.
Pope Benedict will deliver his own address and reply to the comments.
The one-hour activity will also feature prayer with the Pope.
Activities will continue after the Pope leaves, including a guest appearance by Winter Moods.
Fr Savio Vella SDB, the Archbishop's delegate for young people, said the Valletta Waterfront would feature a 'youth village' with stands by various youth organisations and areas for counselling services.
The organisers expect some 14,000 young people to turn up. They will first have to register on www.popemalta.org
Comments powered by

Disqus