Works to start shortly on fortifications information centre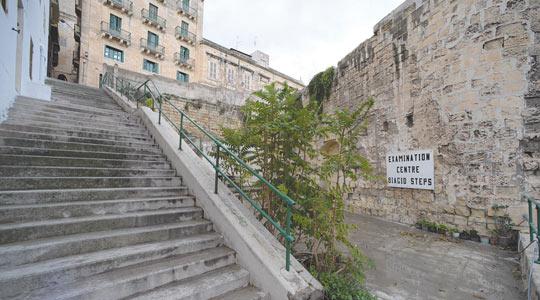 Works on the rehabilitation of Biagio Steps in Valletta and the transformation of the spacious building into an interactive information centre about the fortifications is due to start in the coming weeks, Resources Minister George Pullicino has said.
The project, expected to cost €436,000, was first announced in November 2008.
The building, which is accessible from Melita Street and from Marsamxett, includes large vaulted halls that up to recently were used for the holding of exams.
It has direct access to the Valletta bastions and overlooks the fortifications of Fort Manoel and Fort Tignè.
The upper part of the building, level with Melita Street, was removed after the Second World War because of bomb damage.
The museum will include a permanent display on the fortifications of the Knights and the British, an audio-visual theatre, a resource and reference library, offices for administration and curators and a retail/souvenir area.
There will be large scale models of Malta's fortifications, interpretation panels, as well as interactive multimedia displays on the history and make-up of military architecture.
Comments powered by

Disqus