Muscat calls for joint celebrations of Freedom, Independence days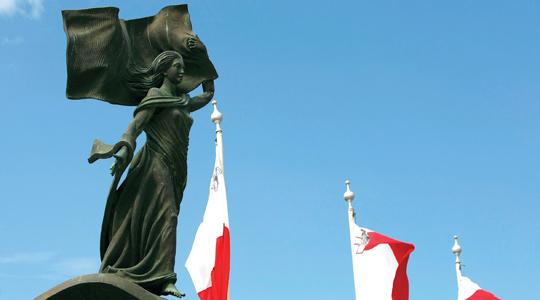 Labour leader Joseph Muscat yesterday welcomed the renewed discussion on having a single national day but suggested that as a start, Freedom Day and Independence Day should be celebrated jointly by the President, the government and the opposition.
After laying a wreath at the foot of the Independence monument in Floriana, Dr Muscat said such milestones in Malta's history should unite people.
He told reporters the discussion on having a single national holiday was a signal that the people wanted to pay their respects to all the national days but at the same time were ready to discuss their importance.
He said it was not the time to pit one national day against another in terms of importance but to have a mature discussion on the subject that would bring everyone together rather than divide.
Prime Minister Lawrence Gonzi last week reignited the debate on having one national day - instead of the current five - by expressing his conviction that it should be Independence Day.
Dr Muscat also called for a revision in the protocol of celebrating national holidays. The protocol currently lays down that the President and the Prime Minister take part in the official festivities. In fact, last year, Dr Muscat had disrupted the flow of the ceremonies when he laid a wreath at the foot of the Independence monument before the President had done so.
The flowers were then cleared so the President could place his wreath first. Yesterday, the Labour leader said these protocols, which had been laid down many years ago, no longer carried the same meaning and should also be the subject of national debate.
Not to repeat last year's mistake, he arrived around 20 minutes after the official ceremony had finished and President George Abela and Dr Gonzi, accompanied by their wives, had laid wreaths at the monument.
Tourists who happened to stumble upon the ceremony, after hearing the playing of the Armed Forces band, were delighted to watch and take part. In a light hearted moment, the Prime Minister shuddered in feigned fright after a gun salute fired loudly close by.
Comments powered by

Disqus