The living dead cry out for help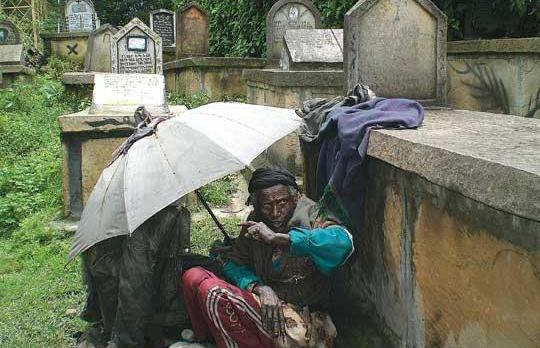 The voices of lepers' children echo through an Ethiopian cemetery as they burrow their way into the graves they call home.
Treated as outcasts, the lepers of Ambo have been forced out into the perimeter of their town with no choice but to set up home among the dead. Like a scene from a horror film, hundreds of people with missing limbs roam through the cemetery, like the living dead, and live under tattered tents, beneath umbrellas or inside graves.
But the arrival of the ferengi, or stranger, may bring hope to this emarginated community as Fr Gorg Grima is working to raise money to build a small village where these 2,000 people can live with dignity.
The founder of the Jesus in Thy Neighbour Mission, Fr Grima first learnt about this leper community in October when he was saying Mass in Ethiopia, where he travels regularly.
"While saying Mass I noticed that outside the church there was a small gathering of people with missing fingers and limbs. When the ceremony was over I walked up to the shy group and realised they were lepers who had come to listen to God's words.
"When I asked them where they lived, I was shocked. They told me: 'We are dead people in the cemetery'. I immediately realised I had to listen to their cry for help and be their voice," he said.
Fr Grima immediately went to visit the lepers at the cemetery where he realised how thirsty for help these people were. In Ethiopia, lepers are considered as outcasts with no rights.
"They only survive by begging for money and post themselves outside churches were people feel more compelled to help the less fortunate," he said.
With the little money they collect, they buy food and then exchange food items between them. They struggle to survive and, as diseases attract other illnesses, one man developed elephantiasis, a disease characterised by thickening of the skin and underlying tissues.
"Families live inside room-like graves and one man actually lived under an umbrella... Whenever there is a funeral they are forced to dismantle the rag that is their home and move into the forest until the event is over," Fr Grima said.
Recently, he added, the mission gave them a cow so they could make use of its milk. Families each keep the animal for a week. The problem is that the smell of the cow, which attracts flies, rubs on to children who play with the animal and, as a result, they end up covered in flies.
Two years ago, the mission built a village for a leper community in Jimma, also in Ethiopia, and was now planning to do the same for the people of Ambo.
Fr Grima's ambition is to build a village on a plot of land given by the Church in Ethiopia. It costs about €700 to build each house. The Jesus in Thy Neighbour Mission was set up 20 years ago with the aim to help poor, sick and disabled children in Brazil, Ethiopia and Kenya.
The mission caters for about 36,000 children who it helps by providing food, education and medication. Every year it carries out a fund-raising activity and, last year, €1.5 million were collected. This year money collected will go primarily to giving dignity to the lepers of Ambo by building the village, wells and a school.
The fund-raising marathon will be held on One Television tomorrow between 5 and 9 p.m. The lines will be open for donations until the end of July. People can call on 5004 9523 to donate €7; 5004 9525 to donate €12; 5004 9520 to donate €23 or send an SMS to 5061 7365 to donate €2.33.
For information about the mission visit www.maltamission.com or phone 2155 6453.
Leprosy
Leprosy is a chronic infectious disease caused by an acid-fast bacteria that mainly affects the skin, nerves, the upper respiratory tract and also the eyes.
The flesh-eating disease has afflicted humanity since the beginning of time and the fear of the disease has led to the rejection of lepers.
According the World Health Organisation, today the diagnosis and treatment of leprosy is easy and most endemic countries are striving to fully integrate leprosy services into existing general health services.
Access to information, diagnosis and treatment with multi-drug therapy remain key elements in the strategy to eliminate the disease as a public health problem, defined as reaching a prevalence of less than one leprosy case per 10,000 population. This treatment has been made available by WHO free of charge to all patients worldwide since 1995.
According to official reports, the global registered prevalence of leprosy at the beginning of 2008 stood at 212,802 cases.
Comments powered by

Disqus