Down-to-earth singer living life of the stars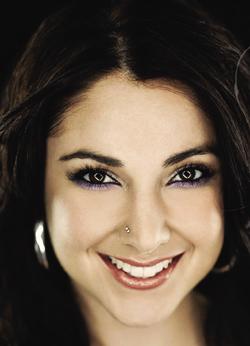 If a lucky birthday is something people look forward to, then the Australian public must have given Natalie Gauci an unforgettable present for hers. She speaks about the experience after winning Australian Idol, the most coveted song contest down under.
She listened to critique and cried... then she listened again and she matured, singing her way into people's hearts to win the coveted Australian Idol song contest in Australia, securing herself a Sony BMG record label.
Her single Here I Am, released immediately after the show, made it to the second place in the Australian singles chart after just three days.
And her first album, Natalie Gauci: The Winner's Journey, hit the shelves of Australian music stores with a bang on Saturday. She marked the occasion by performing live at Westpoint Shopping Centre in Blacktown, Sydney before tackling a long line of fans wanting her autographs.
Life is "an absolute whirlwind... very exciting and a lot of work at the same time", she said, giggling mischievously. "But I'm being well looked after... I'm in a nice apartment. I haven't been dumped in a van, behind the building, or anything," she laughs heartily. "I get picked up in limos... it's totally not me."
She said that winning Australian Idol meant that she could do what she felt she was born to do, write and record albums.
"Music means the world to me. It means everything that is me. Without it I wouldn't know what to do."
The contest had given her the best exposure she could ever have hoped for, she said. Her fans connected with her, and she feels they will follow her throughout her career.
"I will definitely work hard to keep the music flowing... to keep it out there, because I'm all about that. I'm all about music."
But Natalie's Australian Idol experience was not plain sailing. Her audition was nerve wracking to say the least.
"Good looking usually means hopeless singer," was the first thing the 26-year-old Maltese descendant from Melbourne heard from Australian judge Kyle Sandilands as she walked in. Without a hint of discouragement, Natalie went on to perform Free Falling, a song for which she penned both music and lyrics. Mr Sandilands's comment "made me want to do better", she said.
Judge Marcia Hines, an American soul singer, and Australian Mark Holden liked her performance. But British judge Ian "Dicko" Dickson picked an argument with Mr Holden saying that he couldn't take someone on the show when he didn't know whether she could sing a well-known pop song. Natalie, in a spontaneous outburst voiced the refrain of Gloria Gaynor's I Will Survive - and she did!
An impressed Mr Dickson retracted what he had just said. "I think you're one of the best people we've seen, I think you've got some of the best musical instincts, I think you've got the total package. I think you can win this competition," he told her. "Ditto ditto," was Mr Holden's reply. But Ms Hines gave her sound advice: "(You can win this competition)...basically it's the kiss of death," she told her while emphasising that she had to work hard to make it.
That audition kicked off a rollercoaster ride that ended with victory over favourite Matt Corby at the Sydney Opera House on November 25 making her the first wildcard contestant to win Australian Idol. The next day, she spent 12 hours with the press. It was her lucky birthday.
Natalie is the daughter of Ray, originally from Marsa, and an Italian mother, Teresa, who run the Golden Tower Restaurant in Swanston Street, Melbourne. She is the eldest of three siblings, the others being Elizabeth, 23, and Michael, 22.
Sounding rather embarrassed, she admitted she does not speak Maltese, having found it to be a tough language to learn. "I'll just get dad to teach me a word each day," she said.
Described by a music blogger as the "master of turning hideous pop songs into gold", Natalie started singing when she was four years old. Aged 14, she attended the Victorian College of Arts in Melbourne where she had her first formal singing lessons. She feels that the fact that her mother was a singer influenced her a lot. Aged 20 she decided to give the music industry a try and hasn't looked back. She is now a full-time singer, singing a mixture of pop, jazz and soul. Nina Simone and Alicia Keys are among her favourite singers.
In April last year she funded and released a solo EP, Take It or Leave It, making it to the top 500 in the Billboard World Songwriting Contest which featured two million entries. She was also invited by the Oz City Song Circle to perform with other Australian artistes at the Genghis Cohen in Hollywood.
While living the Australian Idol experience, Natalie's personal life took its own twist - she broke up with her boyfriend, who lives in London. She thinks that long distance relationships don't really work because one expects things that aren't really there and it's difficult to understand whether things happen as a result of the distance involved or because the partner isn't the right one.
She feels, however, that the break-up put her in a better emotional state. "I was putting my heart into something that wasn't even really there," she said. "I really, really liked him and I think that it's such a good thing that I ended it because it was just hurting me more than anything."
But Natalie's emotional ride wasn't just about her relationship. She was eliminated from the show twice by the public but the judges believed in her and reinstated her.
They, however, made it clear that she needed to show the public the Natalie they themselves experienced when she was off the cameras.
That was when the whole thing hit her and she decided to "bugger this, I'm just going to do what I want to do and see what happens". Suddenly the public started seeing a Natalie they had never seen before.
Playing the piano while interpreting Rihanna's Umbrella set free enough emotions to land Natalie a Touchdown, an award given when judge Holden felt a singer's interpretation was superb. She went on to get another two, for her interpretations of Divinyls's Boys in Town and Ella Fitzgerald's How High the Moon.
But it was winning the contest that really changed her life.
She returned to Melbourne yesterday to an enthusiastic welcome by the Maltese community which flocked to the mall, where she spent the day signing autographs.
"The Maltese are fantastic," her father said while thanking them and all those who voted for her.
Natalie admitted she had felt lonely without her family. "There were a lot of hard times; when you think about how much work I'm doing and not having the family around me...," she said with an emotionally-laden tone. "It does get a bit lonely." Yet she felt that coping with separation is making her stronger every day.
Natalie will be part of an impressive line-up of entertainers for Vision Australia's Carols by Candlelight on December 24. Then on January 2 she embarks on the first-ever Australian Idol winner National Tour. Darwin is not on the list but she's trying to fit in a special stopover.
"I'm going to enjoy it, go for the ride and work hard to make a good show... and I hope that people buy tickets," she said. "I will try to do the best I possibly can... that's just in me."
And she is already thinking beyond the tour... "I'd love to go international. I'd love to visit Europe and Canada, and I'd love to sing in Malta..."
Comments powered by

Disqus