Old Motors Encounters - Thierry Giovannoni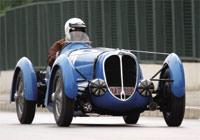 One sunny afternoon last March, Dr Lino Gauci Borda, the president of the Old Motors Club, was happily potting away to his heart's content in his garden, like many other green-fingered soul mates. His idyllic interlude was suddenly and rudely interrupted by the persistent ringing of the telephone.
It was the Maltese Embassy in Paris. There was a sense of urgency in their tone - they had received a dossier from a French gentleman who wanted to organise a grand prix of old historic racing motor cars in Malta. The advice and guidance of the OMC was being sought over the feasibility of the proposed project.
Thus budded the now flowering relationship between the OMC and Thierry Giovannoni, the director of the eponymous organisation, and which will soon blossom more fully into the first Grand Prix de Malte and a number of other old motoring events.
That the Frenchman has a fiery, profound passion for old cars is never in doubt, as I found out recently when I met him in Naxxar while he was on his sixth visit to Malta in as many months, tying together the final loose ends to yet another of his dreams. Thierry is a larger than life character whose interaction with some of the world's greatest racing car drivers, and personal handling of a number of unique historic racing cars, come gushing out in litany like language, akin to an active volcano spewing hot lava.
How did it all begin? "By the age of five, I was already considered a bit of a precocious child in my town, Gennvilleirs, in the Paris suburbs, for I knew by name all the cars around the area," he smiled.
From an initial interest in all cars, Thierry began to nurture a keen enthusiasm for sports cars. "In 1967, when I was 11 years old, my parents took me to the biggest endurance race in the world - the 24 hours Le Mans Rally. The sight of such classics as the Ford GT 40 and the Ferrari P4 left an indelible mark on my soul".
His childhood was mainly spent travelling nomadically throughout Africa, where his father Andrè, an oil drilling engineer, transferred his family wherever work took him in the dark continent, be it Mauritania, Guinea, Senegal, Sao Tome, Gabon, the Congo, Zimbawbe and other countries. Eventually the Giovannoni family settled in the south of France, around Aquitaine in the Dordogne region.
Thierry 'bought' his first car when he was just 12. "The way this came about is fairy tale stuff," he recounts. "My father and I were spending some days in a little village where my grandparents lived. One day I was passing by a car dealer, when my eyes fell lovingly on a 1952 Citroen Traction. I told the dealer how beautiful the vehicle was, and he said that I could have it for the price of a Ricard (an aniseed-based traditional French drink). I just could not believe my ears!"
Thierry galloped to his father, and asked him for the money to pay for the drink - the cost was a mere one French Franc (the rough equivalent of 80c/€0.20). He shook hands with the dealer, and told him to keep it for him for a while. A year later Thierry returned with his cousin, who had a driving licence and a Volkswagen Beetle, and together they towed the Citroen some distance away to a large barn on his grandparents' farm.
"This barn was literally a Godsend, my little heaven on earth," he explains. Like all other farmers in the region, his grandparents grew, among other things, tobacco. The large green leaves of this plant were cut to dry and hung high above the ground in this barn, leaving the lower area unoccupied. It was at this base that the young entrepreneur gave vent to his unbridled creativity, wheelings and dealings at an early stage - for between the ages of 13 and 18, Thierry managed to acquire eight other classic cars at peanut prices!
"They were all wrecks, but complete wrecks," he quickly adds. "One of them was an abandoned De Dion Buoton, which a farmer had converted into a tractor. Another was an Alfa Romeo Touring 2000 in a bad state, but still I drove it around without a licence!"
Thierry's father thought that with his son's proximity to the motor car, an engineering career was a foregone conclusion. So after secondary school he was duly directed towards Maths, which he studied for two years. However, figures were not his forte, so he switched courses and began pharmaceutical studies. Unfortunately, he failed the first year exams, and before he could repeat the year, he was conscripted into military service. Attached to the communications division, Thierry spent a year living in a world inhabited by the dots, dashes and flashes of the Morse Code.
By 1979, Thierry had completed his military duty, and in the meantime, his father had removed the African sand from his sandals and settled in France. That same year, father and son opened a car concessionary with Opel General Motors. The joint enterprise lasted five years, for after so many years being on the move, Andre Giovannoni began to get restless again, and eventually the wanderlust got the better of him.
Thierry kept the large garage, and in 1985, he embarked on another innovative project connected with old cars. Finding a new niche market, he set up a bi-monthly publication, Vehicules d'Epoque d'Competition Magazine. Thierry did everything himself, except the photography. "I was always moving around travelling from country to country, covering the main circuits dedicated to historic racing cars, like Monza, Barcelona and Belgium. We had many, many subscribers, the bulk coming from the old car owners themselves".
A year later, in 1986, Thierry hit upon the idea of getting together some of his subscribers and organising a rally of old racing cars. The first Grand Prix was held in the little French town of Tonneins, and attracted 70 men with their magnificent machines. The activity was such a resounding success that Thierry, far from sitting at length on his laurels, now thought of exporting the event overseas, somewhere in Africa.
"Some time earlier I had read about the 1955 Grand Prix event in Casablanca, which was the equivalent of the current Formula One Championships. It was the last race of the season, and had everyone on tenterhooks," continues Thierry, as he narrates how Stirling Moss finished first, but Mike Hawthorne won the world title as he needed only a second placing to be the overall winner, and he succeeded in coming hot on Moss' heels. (Unfortunately Hawthorne died a year later when his Jaguar crashed on the road).
Following his dream
Thierry meet the Moroccan Minister for Tourism, and proposed a Grand Prix with old racing cars of the halcyon era up to 1965. Thierry then networked through Tuolo de Grafenreid, president of the Old Racing Car Drivers Association (Grafenreid had won the Brands Hatch Grand Prix in 1951 with a Maserati).
The first Grand Prix of Morocco was held in 1987, with over 70 stallions coming from the stables of Bugatti, Ferrari, Alfa Romeo and Maserati battling it out. Participants included Juan Manuel Fangio, Florian Gonzales, Maurice Trintignant, Jack Brabham and Ray Salvadore. Another edition of the Grand Prix was held in Morocco the following year, but then Thierry had to call it a day because of family reasons.
Back on native soil, the fiery Frenchman came up with yet another first - a museum of historical racing cars in an 'as found' condition. Harnessing vehicles which an old friend had left to rot, Thierry opened the museum in 1989 in Sarlat, in the same garage which had seen the joint concessionary venture with his father.
"It was back to basic roots for me," says a nostalgic Thierry. "The collection was impressive - among others we had a Bugatti, two Le Mans Aston Martins, two Alfa Romeo Mille Miglia, and a Ferrari 340 America, whose previous owner was Prince Ranier of Monaco". Some 50,000 visitors from all over the world flocked to the museum in the first two years.
True to his rolling stone tradition, Thierry now turned his mind to other things, and after two years he sold the museum while keeping some of the old cars for himself. He, subsequently, became involved with the regional tourist authority, and built a holiday complex on his land. Towards the end of the 1990s, however, the clarion call of the classic cars started to sound seductively again, and Thierry responded by closing up shop.
This time he turned towards Tunisia, where in 2000 he organised the first Grand Prix in the country. This event was successfully held annually until last year. Concurrently Thierry was also the brains behind four editions of the One Thousand Sand Dunes Race in the Tunisian desert, opened to pre-1970 two- wheel drive cars like Ford Escort, Simca, Peugeot, and Citroen.
After seven years in Tunisia, both Thierry and the racing drivers felt it was time to move on. He started reconnoitering for a Mediterranean destination accessible by ferry.
"And what better place for a Grand Prix of historic racing cars than a honey-coloured stone island situated at strategic crossroads, overflowing with traditions and vestiges of passed civilisations, from Ulysses, St Paul and the Knights of St John?" asks the cultured Frenchman rhetorically.
Quick on the draw, Thierry compiled a detailed dossier on a proposed Grand Prix de Malte, and last January delivered it to the Maltese Embassy in Paris. The following month he had a meeting with the Maltese Ambassador Vicky Ann Cremona. In early March there was the initial contact with the OMC... and the rest is history.
Since then, many other powerful local bodies and gate-keeping organisations have come on board the Grand Prix de Malte bandwagon, and have been working together to turn a dream seed into full fruition. The MTA, the ADT, the Federazzjoni Maltija Vetturi Antiki (FMVA), the local councils of Valletta and Floriana, the Police, the Civil Protection Department, the Medical and Health Department, various private sponsors - the list is endless!
"Between October 22 and 28, more than 50 historic racing cars, from 1910 to 1975, and including Ferrari, Jaguar, Maserati, Lamborghini, Alfa Romeo, AC Cobra and Bugatti, will come from all over the world to grace the Maltese islands in a series of events," enthuses an excited Thierry. Some Maltese owners of old cars will also be participating in the activities, which will feature a static show in Valletta, a rally in Gozo, a Concours d'Elegance, a rally to Hagar Qim, and the major Grand Prix around the streets of Valletta.
I could have continued talking to Thierry for hours on end. But he has to garage his 1926 Bugatti Type 35 for the night - it does not sport headlights, and so he must hurry before darkness sets in. With his personal assistant, Stephane Dupont, who is the resident liaison officer for the Grand Prix in Malta, and Thierry's son Axel, who has been following his father with a large trailer just in case the old Bugatti gives up the ghost, we proceed to the old village square of Naxxar, where the old car has been parked for the last couple of hours opposite the majestic parish church.
A throng of people is still milling around the old race horse, and appreciative, positive comments puncture the cool evening air. If this is a taste of things to come, then the Maltese and Gozitan motoring public is in for a delightful treat over the next few days!
• Joseph Busuttil is PRO of the Old Motors Club; e-mail: info@oldmotorsclub.com; Website: www.oldmotorsclub.com
Comments powered by

Disqus