Maltese generosity provides shelter for Kenyan orphans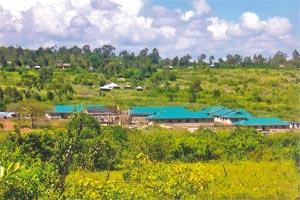 Providing shelter for 300 orphans might seem a drop in the ocean when there are at least 10,000 of them in the Kenyan Province of Homa Bay. Yet, the new Divine Mercy Home, being built thanks to donations from the Maltese, is still one of the largest projects of its kind in the region.
At a press conference, Homa Bay Archbishop Mgr Philip Anyolo said it was thanks to Malta's and Gozo's generosity that orphans in Kenya could get care and education.
Mgr Anyolo said that in parts of Homa Bay more than one in every three people are HIV positive, and children are no exception.
"Nobody's child is everybody's child. This is the motto which urges us to help the large number of children who have nobody to mind them because of the widespread AIDS problem in Kenya," Mgr Anyolo said.
Besides an orphanage, the project includes a hospital, a school and a residence for nuns who are being trained as nurses and in childcare, Mgr George Grima, from the Gesù fil-Proxxmu Movement, said. The first part of the project was opened by Mgr Anyolo in December 2006.
Mgr Grima said the movement, now in its 20th year, had helped poor people in Ethiopia, Kenya and Brazil. Thanks to donations from Malta, many children could be fed and given medical care every day while a good number could start going to school.
Giving an account of the donations collected and distributed in the missions, details of which had been passed on to the Maltese Archdiocese, Mgr Grima said the movement had distributed Lm565,317 last year.
A school was opened in Piqueizeiro, a village in the Brazilian diocese of Tocantinopolis, last year thanks to the Maltese donations.
The movement is building the first school and a kindergarten in the Ethiopian villages of Sakku and Shinsinda.
Comments powered by

Disqus