MacDonald's lays stress on food nutrition value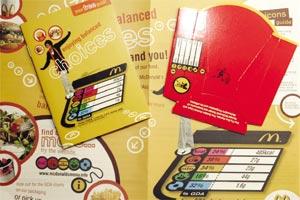 Diet-conscious clients of McDonald's now have the opportunity to calculate the calorie intake and assess nutrition value of food they consume as a result of detailed information on product packaging.
Officially launched in Malta yesterday by McDonald's Malta, the nutrition initiative is the latest step in McDonald's ongoing commitment to provide consumers with information to help them make personal and informed choices to establish a balanced, active lifestyle.
Luca Bollani, purchasing, quality assurance and environment manager for McDonald's Italy, said the initiative was the result of a research process that focused on consumer awareness and comprehension of nutrition and nutrition information, different concepts for providing this information and a pilot market test of the proposed model.
All McDonald's restaurants throughout Malta and Gozo now feature nutrition information on food packaging.
McDonald's restaurants in Torino, Italy were the first McDonald's restaurants in the world to use the updated packaging for customers during the Winter Olympic Games last year. Since then, this initiative has been extended to more than 20,000 restaurants worldwide.
Maltese customers can now check the nutritional value of most products through comprehensive and user-friendly information available on tray-liners, product packaging and specially-designed leaflets available in McDonald's restaurants.
The new icon and bar chart format provides clear and user-friendly information on a menu item's nutrition value and how it relates to daily nutrient guidelines. The icons represent the five elements experts agree are most relevant to consumer understanding of nutrition - calories, protein, fat, carbohydrates and salt.
The new packaging includes the nutrition reference values, called guideline daily amounts (GDA), which for the first time have been established on a European level, and are based on guidelines recommended in European countries as well as by the World Health Organisation. McDonald's is the first in the restaurant industry to utilise the GDA.
Mr Bollani said the GDA for key nutrients are measured against a daily energy guideline of 2,000 kilocalories for adults. Those menu items that can be part of a Happy Meal also have information that is based on a GDA of 1,600 kilocalories, an appropriate value for children aged four to seven.
Present for the launch was Melo Hili, managing director of McDonald's Malta, Joanna Ellis, marketing manager, and Hector Naudi, purchasing and quality assurance manager.
Comments powered by

Disqus