Spirited fightback not enough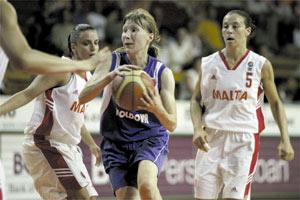 Malta 75
Moldova 81
(20-17, 9-21, 23-28, 23-15)
\n
With only a minute to go for yesterday's bronze medal play-off at Ta' Qali, Malta were looking strong enough to complete their bold comeback bid against Promotion Cup rivals Moldova in a high-scoring match at Ta' Qali.
The Maltese had embarked on an arduous mission after falling heavily behind at one stage of the match after hitting a poor patch, particularly in the second quarter.
But the spirited fightback launched by Santino Coppa's girls, supported by a sizeable crowd on the stands, was quashed when the referees, one from Scotland and the other from Wales, decided to signal a dubious foul to Moldova.
The eastern Europeans, relieved to have defended possession at such a crucial time of the match, had clearly wilted under the home team's intensive pressure.
They were only leading by two points when the match officials ruled in their favour.
Malta, who had Doreen Parnis as the match's top-scorer with 23 points, started well and took the first quarter 20-17.
However, the pace was not maintained as Moldova easily cancelled that slim deficit to move 38-29 ahead at half-time.
Midway through the third session Moldova moved 21 points clear but then came the strong Maltese response as they started to cut inside their opponents' advantage. But, with little time left, their efforts were futile.
Malta were third in the Promotion Cup two years ago in Andorra but that high placing was not to be repeated this year as somehow Moldova held on for a tight victory.
Luxembourg on top
Luxembourg won the 2006 Promotion Cup title yesterday evening after beating Scotland 54-49 in the final. Luxembourg eliminated the Maltese from the semi-finals, winning Saturday's match 65-60.
Other result: Andorra vs Gibraltar 96-38.
Final classification: 1. Luxembourg; 2. Scotland; 3. Moldova; 4. Malta; 5. Andorra; 6. Wales; 7. Gibraltar.
All-Star Five: O. Kazak (Moldova); T. Hetting (Luxembourg); J. Grima (Malta); R. Anderson (Scotland); C. Koch (Luxembourg).
MVP: Olga Kazak (Moldova).
Comments powered by

Disqus