Energy supply worries ignite coal revival in UK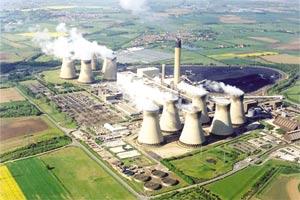 Soaring oil and gas prices, doubts about Russian supplies and advances in clean technology are fuelling a revival of Britain's coal industry ahead of a review of energy policy expected this week.
Northern England, home to once-flourishing mines that fell victim to Britain's rush to North Sea gas in the 1990s, is feeling the upturn. Companies from Britain and abroad are seeking to open new sites and invest in reserves that hitherto may have been uneconomical, industry executives say.
Britain has one billion tonnes of coal reserves which may last another 50 years at current excavation rates, the industry estimates.
"Certainly the market has revived," Tom Allchurch, chief executive of Britain's third-largest coal producer ATH Resources, said.
He expected British production to rise by 10 per cent this year to 23 million tonnes to meet growing demand.
"The main coal use for electricity generation has steadily increased probably since a low in 1999... My own view is it will probably increase for the next couple of years given (rising) prices of gas," he said.
Coal's revival is taking place as the government rethinks its long-term energy policy.
This month's energy review, designed to address concerns about security of supply and rising greenhouse gas emissions, is expected to call for a diverse mix including coal, gas and nuclear energy, as well as renewable sources such as wind power.
Foreign investment is spurring the latest wave of interest in coal.
Hatfield Colliery near Doncaster, one of Britain's biggest mines which closed in 2004, plans to reopen next year, thanks to a $1.6 billion injection from Russia's second-biggest coal firm Kuzbassrazrezugol, more simply known as KRU.
Stock market investors are increasingly optimistic that coal will play a bigger role in meeting British energy needs. Shares in Drax, Europe's largest coal-fired power station located in North Yorkshire, have risen by almost 70 per cent since it floated in December.
The firm, almost bankrupt in 2002 before soaring power prices lifted it into the blue-chip FTSE in June, has outperformed the index by about 60 per cent since its flotation and said recently it had already sold 63 per cent of its 2007 output at higher prices.
UK Coal, Britain's largest coal miner, also returned a profit in the final quarter of 2005 for the first time since 2000 and has said it is seeking coal price increases.
British coal production rose 8.2 per cent in the first quarter of this year, according to the Department of Trade and Industry. It had more than halved to 21 million tonnes since 1995, as British-produced coal lost ground to cheaper imports.
The emergence of "clean coal" technology, designed to curb greenhouse gas emissions from power stations, has further strengthened the case for coal, which until recently had been written off as too dirty and unable to compete with gas.
Burning gas produces roughly half the carbon dioxide (CO2) emitted by conventional coal-fired plants.
Clean-coal technology involves boosting the efficiency of existing coal-fired power stations, and capturing and storing CO2, the main gas blamed for global warming.
Powergen, the British arm of German generator E.ON, wants to develop a clean-coal project in Killingholme, eastern England, provided it gets government support.
Npower, part of German utility RWE, is also considering building a new coal-fired plant using emission-reducing technology in Tilbury, southeast England.
Local people are upbeat about the prospect of new money.
Employment in coal has shrunk to 9,300 jobs from about 50,000 in the 1960s.
"At the end of the day it does not matter whether they are American, Australian or Russian. They will be welcomed," said Steve Kemp, national secretary of the National Union of Mineworkers.
"We will support them (foreign investors), just like we opposed closures of collieries in the past."
Mr Allchurch also argues that the role coal can play in a diverse range of energy sources will help secure Britain's energy supply, no matter who owns the assets.
News that Russian gas monopoly Gazprom - which briefly stopped gas supplies to Ukraine earlier this year - is interested in energy utility Centrica has aroused concerns about Britain's energy security.
The largest gas consumer in the EU, it relies on gas for 40 per cent of power generation and its dependence on imported gas for all uses could rise to as much as 90 per cent by 2020 from 10 per cent, the government estimates.
"We want recognition (from the government review) that indigenous coal is important to security of energy supply," Mr Allchurch said.
"What we need is to create a market structure which does not allow one fuel to become dominant in the market. In that sort of balancing environment, then you have something that works. Something that is competitive. And you have security because you have diverse supply."
Comments powered by

Disqus