Vanni Bonello celebrates birthday with book tribute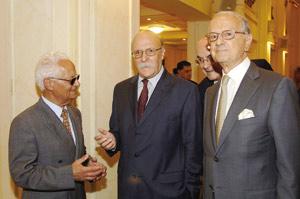 A small crowd of people from all walks of life yesterday gathered at the ballroom of Le Meridien Phoenicia in Floriana to pay tribute to Giovanni Bonello, or Vanni as he is affectionately known, who celebrated his 70th birthday a little belatedly, but in a special way - with the publication of a 420-page book written in his honour by no fewer than 36 people.
Although the launching of the Festschrift came almost a fortnight after Judge Bonello's 70th birthday (it was on June 11), it was held on his name-day, yesterday being the feast of St John Baptist, patron saint of the Order of St John - a favourite subject of Vanni's writings.
The book, published by Fondazzjoni Patrimonju Malti and produced by MidSea Books, is divided in three sections: history, art and architecture, and the law of human rights.
The essays reflect Judge Giovanni Bonello's range of interests, about which he has written prolifically in the past. He yesterday promised "more was yet to come".
Speaking at the launch, President Emeritus Guido de Marco recalled the difficult times when Vanni's father Vincenzo (curator of the national art collection) was interned and deported during the war, and the impact this must have had on Vanni, whose sense of rebellion against injustice prevailed. Indeed, one of the essays in the book deals with 'Page 13', a page The Sunday Times used to dedicate to human rights issues in Malta in the 1980s and authored mostly by Vanni Bonello.
Professor de Marco described Judge Bonello as "a Renaissance man living in our times" and said his approach, even his interpretation of the law, was to look at new frontiers.
Fondazzjoni Patrimonju Malti chairman Maurice de Giorgio thanked Theresa Vella and Maroma Camilleri, from the Museum of Fine Arts and the National Library respectively, who edited the book.
Judge Bonello said the launch proved a point: that though he had a few enemies, he had more friends, many of whom he did not even know.
He thanked all those who contributed towards making the book possible, especially MidSea Books, who put "their heart, resources and technical genius behind the book".
This book which is only available hardbound, is on sale from all leading bookshops at Lm24.
Comments powered by

Disqus