Military architecture stamps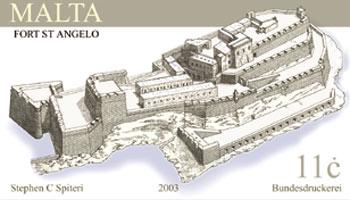 Five prime examples of the best in military architecture in the Maltese islands will feature on a set of stamps being issued by the Philatelic Bureau of Maltapost on Friday.
The designs have been entrusted to military historian Stephen C. Spiteri, a recognised authority on military architecture. Fondazzjoni Wirt Artna have assisted with brochure text.
The stamps in this issue are chosen to represent the main themes in the development of military architecture in Malta throughout the last four centuries.
This Military Architecture set is being issued in the following values: 1c featuring Fort St Elmo; 4c Rinella Battery; 11c Fort St Angelo; 16c Reserve Post R15; and 44c Fort Tigné.
The stamps have been offset printed in Germany by Bundesdruckerei GmbH and will remain on sale until March 20 , 2004, unless stocks are previously exhausted.
The stamps will be on sale from all Maltapost branches in Malta and Gozo.
The next issue, scheduled for April 23, is a set of five stamps featuring five different paintings of St George by well-known artists, found in churches and other locations in Malta and Gozo.
Comments powered by

Disqus