Chapel remains being restored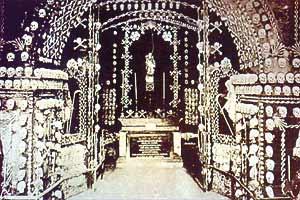 The remains of the Chapel of Bones next door to the Sacra Infermeria, the former hospital of the Order of St John in Valletta, are being given a facelift.
Built by the knight Fra Giorgio Nibbia in 1612, the walls of the chapel were covered with human skulls, bones and even complete skeletons.
It was the chapel of the cemetery of the Sacra Infermeria, which has since been restored and now functions as the Mediterranean Conference Centre. The chapel was destroyed by enemy action during the second world war.
The facelift is being carried out by the Archaeological Services Cooperative and the Grupp Arkeologiku Malti. The Valletta Rehabilitation Committee had commissioned the ASC to carry out a study of the state of the site and how it could be made visitor friendly.
The report was sponsored by the operators of the Malta Experience, an audio visual reconstruction of the history of the Maltese islands, which is housed next door to the chapel remains.
Yesterday, Resources and Infrastructure Minister Francis Zammit Dimech visited the site.
Comments powered by

Disqus