Leo Brincat's wilderness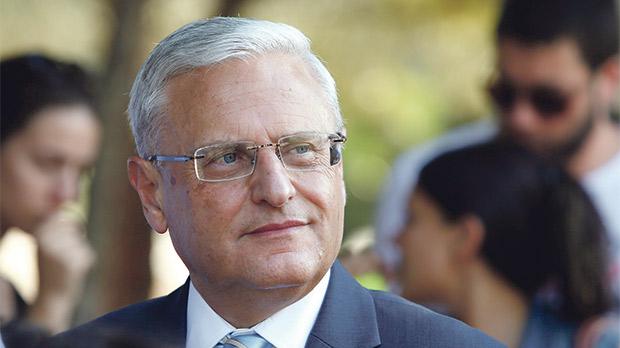 In all the commentary about the Leo Brincat affair, no one has taken a moment to observe what is truly puzzling about his crucial answer to the EU budgetary affairs committee. Just what did he mean when he said that, had he given Konrad Mizzi a vote of no confidence, he would have spent the rest of his political career in the wilderness?
On the day of the vote, he was already the government's nominee to the Court of Auditors.
Those who have assumed that he must have got the nomination in return for his favourable vote have got the chronology (and, I think, the man) wrong. He was already nominated. In Parliament, Simon Busuttil even warned Brincat that a vote for Mizzi would damage his chances in Brussels.
A vote against Mizzi would have guaranteed that he would have sailed through the European nomination process. A place on the Court is not the wilderness. Brincat still hopes to make it there.
Brincat's wilderness can only be a political life in Malta as a Labour rebel. But that doesn't add up. He was on his way out to Brussels. The only way to pull him back in, as Don Michael Corleone might say, would have been to un-nominate him.
Is Brincat really saying that Joseph Muscat would have retracted his nomination? Or lobbied against him during the votes? (In either case, what politically sane cover story could Muscat give?)
We should be told what wilderness scenario Brincat means. It would help us understand his decision not to resign from the front bench as a prelude to voting against Mizzi. That decision is particularly striking given an article that Brincat wrote, 11 years ago, in praiseof another Labourite who embracedthe wilderness.
Robin Cook, the former British Foreign Secretary in Tony Blair's first government, had just died suddenly aged 59. Five days later, Brincat published his appreciation in this newspaper.
Cook was an outstanding parliamentarian and debater in the House of Commons but was justifiably most famous for being the only member of Blair's second Cabinet to resign in order to vote against the UK's participation in the 2003 invasion of Iraq.
His resignation speech was hailed as one of the most effective speeches ever but he was still cast into a gilded wilderness. In the media he remained in demand and his published diary did well with the critics. He also remained, however, on the backbenches and ended up having to form an alliance with a man he hated, Gordon Brown, in order to discuss a post-Blair scenario. When Cook died, Blair was on holiday and didn't bother to return for the funeral.
Brincat's wilderness can only be a political life in Malta as a Labour rebel
Brincat opened his encomium by citing two pieces of praise of Cook from the British press: "He was a man of high principles" (The Sunday Independent) and "the government's most effective and intelligent critic, he continued his opposition in lucid and forensically argued journalism" (The Observer). In his own words, Brincat added: "From a distance I always admired the man – particularly his political resolve… Never one to indulge in personal attacks he could argue his case clinically."
And, when he chose to quote Cook, he selected the following comment where Cook stated how the cynicism engendered by Blair was to be overcome: "Renewal must be about more than reviving political support for Labour.It must also offer… a return to value-based politics."
There are three ways to react to Brincat's article in the wake of his vote for Mizzi. You can weep. You can scoff. Or, like me, you can see in Cook the kind of politician Brincat very much wanted to be – a top reformer even if not a leader; attractively clinical even though not charismatic; and, despite long years in Opposition for the sins of others, politically resolute and principled.
What passes through a man's mind and heart when a golden opportunity for political apotheosis presents itself… only for him to decide that he cannot or must not rise to the occasion?
Cook – "I cannot support a war without international agreement or domestic support" – would even have given him the crowning line of his resignation speech: "I cannot support a minister who is internationally disgraced and without domestic support."
Instead, Brincat chose to vote in a way that disqualifies him from being on the Court of Auditors in the wake of the Panama Papers (even if political horse-trading might yet help him over the final hurdle). For him to say that the European Parliament vote didn't judge him on his qualifications is to arrogate to himself the right to decide which qualifications can be counted.
It's as if Zinedine Zidane had argued against the red card, during the 2006 World Cup final, on the grounds that he was the most talented player on that field. He was. But that single action, the head butt, cancelled everything and disqualified him.
Brincat says he was simply playing the political game by the rules of Malta. In Brussels he said he voted the way he did in another country and, besides, it's behind him now. Once in Luxembourg, he will be free of partisan obligation.
Yes, but the EU will not be free of the potential accusation that, when it's convenient, some of its highest officials turn a blind eye to involvement in the Panama Papers.
The late Lino Spiteri, when trying to explain some of his political misjudgements, liked to allude to Shakespeare's Othello. Like Othello with Desdemona, he had loved Labour "not wisely but too well". Perhaps that is the real explanation behind Brincat's vote.
However, his own assurance to the budgetary affairs committee echoes the famous line from Marlowe's The Jew of Malta. When two (hypocritical) friars begin to accuse Barabas of a sin – "Thou hast committed…", Barabas interrupts: "Fornication? But that was in another country: and besides, the wench is dead."
In our case, of course, the wench is alive, smiling, and on the beat.
Comments powered by

Disqus